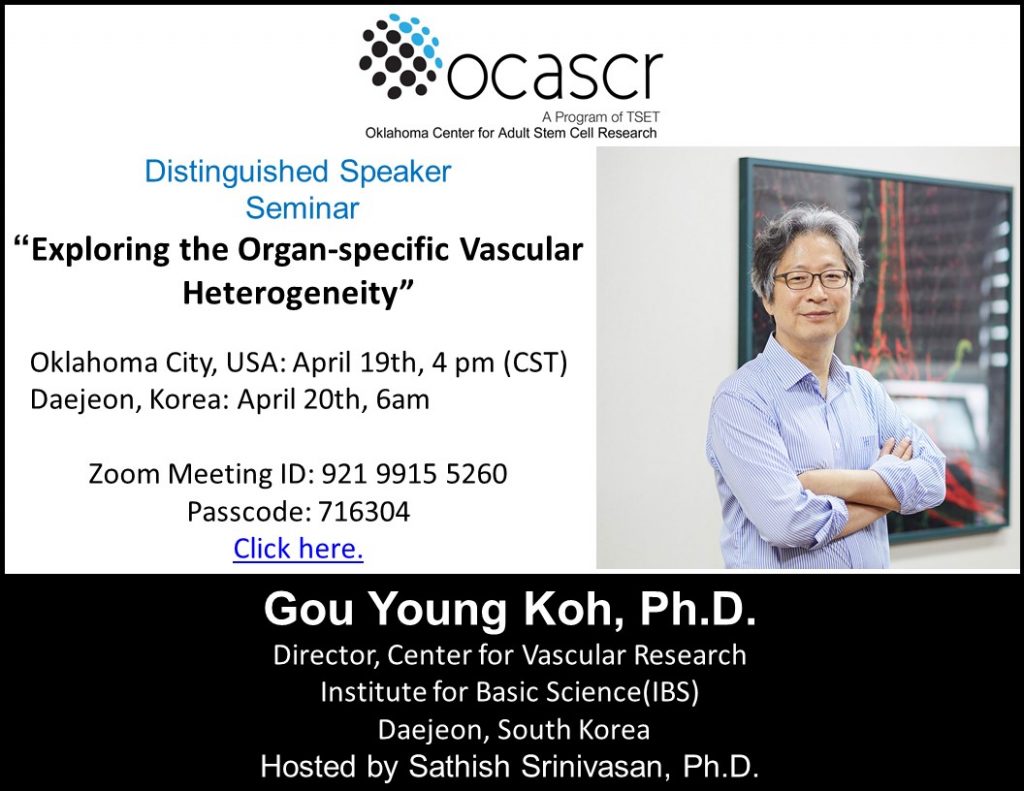 We are pleased to welcome Dr. Gou Young Koh as the Distinguished Speaker for the OCASCR seminar series. Dr. Koh is the Director and Distinguished Professor of the Center for Vascular Research, Korea Advanced Institute of Science and Technology (KAIST), Daejeon, Korea. It is not an overstatement to say that Dr. Koh is a legend in the field of vascular biology. In a career that has spanned 4 decades Dr. Koh has published more than 400 papers with many of them in high profile journals. His publications have been cited nearly 40,000 times with a h-index of 98. Dr. Koh has received numerous awards including the Kyung-Am prize for Life Science, Asan Medical Research Award and Ho-Am Award in Medicine.
Some of his recently published articles are listed below
Refractoriness of STING therapy is relieved by additional AKT Inhibitor through effective vascular disruption in tumour. Nature Communications (2021) 12, 4405.
Nasal ciliated cells are primary targets for SARS‐CoV‐2 replication in early stage of COVID‐19. Journal of Clinical Investigation (2021) 131:e148517 (Cover illustration)
Structural basis for Tie2 clustering and activation mediated by a novel Tie2‐agonistic antibody. Nature Communications (2021) 12:6287
Distinct fibroblast subsets regulate lacteal integrity through YAP/TAZ induced VEGF‐C in intestinal villi. Nature Communications (2020) Aug 14;11(1):4102.
VEGFR2 signaling drives meningeal vascular regeneration upon head injury. Nature
Communications (2020) Jul 31;11(1):3866.
More details about Dr. Koh's research can be found at his homepage https://sites.google.com/view/cvribs/
Blood and lymphatic micro-vasculatures (capillaries) constitute one of the body's largest surfaces, serving as an essential interface between the circulation and each of the different organs. Considering the involvement of vascular dysfunction in numerous acute and chronic and life-threatening diseases, a better molecular understanding of organotypic vasculatures may pave the way toward novel treatments to cure intractable diseases. In this seminar, Dr. Koh will present his group's recent works regarding vascular heterogeneity at the border of the nasal cavity and central nervous system (CNS). This work makes conceptual advances in the understanding of organ-specific vascular differentiation and could be relevant for diseases such as neuroinflammation and Alzheimer's disease.
Dr. Koh uses cutting edge technologies for his research, produces some of the most beautiful images of tissues and is a very engaging and entertaining speaker. Please plan to attend what I am sure will be an exciting talk.