Dr. Griffin was appointed as Scientific Director of OCASCR in 2018. She earned her undergraduate degree in Biology at Harvard College in 1995 and her Ph.D. in Biomedical Sciences at the University of California San Francisco in 2001. During her graduate training, she became interested in vascular development and its implications for embryonic growth and for postnatal health and disease. She pursued postdoctoral training at the University of North Carolina at Chapel Hill, where she was exposed to the field of epigenetics—the study of environmental and biological factors that turn genes on and off. In 2008 she launched her own lab at the Oklahoma Medical Research Foundation (OMRF) in Oklahoma City studying the impact of epigenetics on vascular development. Her lab's research is generating novel insights into genes that regulate blood and lymphatic vessel identity and integrity, with implications for heart disease, aneurysms, cancer, and toxic drug overdose. She is currently a full Member in the Cardiovascular Biology Research Program at OMRF and holds an Adjunct position at the University of Oklahoma Health Sciences Center. She holds leadership positions within the American Heart Association and is an active member of the North American Vascular Biology Organization and the Society for Developmental Biology. As Scientific Director of OCASCR, Dr. Griffin is committed to supporting adult stem cell and regenerative medicine research in Oklahoma. Click here to be directed to Dr. Griffin's laboratory website.
Paul W. Kincade, Ph.D.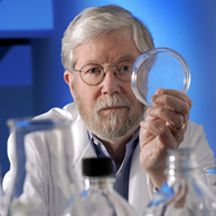 Dr. Kincade was the founding Scientific Director for the Oklahoma Center for Adult Stem Cell Research. His training includes a Ph.D. from the University of Alabama in Birmingham and a postdoctoral fellowship at the Walter & Eliza Hall Institute in Melbourne Australia. Before moving to Oklahoma in 1982, he was Associate Member of the Sloan-Kettering Institute in New York. He is currently Vice President of Research at the Oklahoma Medical Research Foundation and holds the William H. and Rita Bell Endowed Chair of Biomedical Research.
His personal research interests include relationships between hematopoietic (blood) stem cells and the immune system. His laboratory recently established a connection between chronic infections, stem cells and aging. He has written over 270 peer-reviewed papers, chapters and reviews, accounting for his inclusion on ISI's List of Highly Cited Authors. His laboratory has been continuously supported for 35 years by grants from the National Institutes of Health.
His service on review groups includes advisory boards for 10 scientific journals, the National Institutes of Health and the RIKEN Institute in Yokohama, Japan. He has lectured extensively and consulted for pharmaceutical companies. Dr. Kincade is Past President of the American Association of Immunologists (6,500 members), and represented 60,000 scientists as President of the Federation of American Societies for Experimental Biology (FASEB).
Kelly Gentry, RN, MS, MBA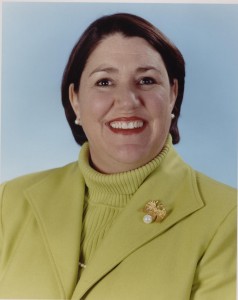 For over 30 years, Kelly Gentry's experience includes management, quality improvement, sales, marketing, human resources, health insurance, and clinical healthcare. She has worked in hospitals, outpatient clinics, home health agencies, government organizations, non-profit Organizations and corporate environments.
Kelly began her career in health care as a registered nurse and later as a nurse educator at the Children's Hospital in Oklahoma City. She left the inpatient environment to become a genetic counselor at the OU Health Sciences Center. After 8 years at the health sciences center, Kelly had various management positions at a home health agency, PacifiCare Managed Care, the Foundation for Medical Quality and Intergenetics, a biotech start-up, and Creative Oklahoma, a non-profit organization.
In her role at the Oklahoma Center for Adult Stem Cell Research, she is responsible for the administrative functions of the center. Along with the scientific director, she will work to support adult stem cell and regenerative medicine research in the state of Oklahoma by managing the grant program, assisting with the recruitment of scientists, and educating the public about the promise of adult stem cell research and regenerative medicine.
Kelly received a bachelor's degree in nursing from Vanderbilt University in Nashville, Tenn., a master's degree in nursing from the University of Oklahoma, and a master's in business administration from Oklahoma City University.